J.R. Evans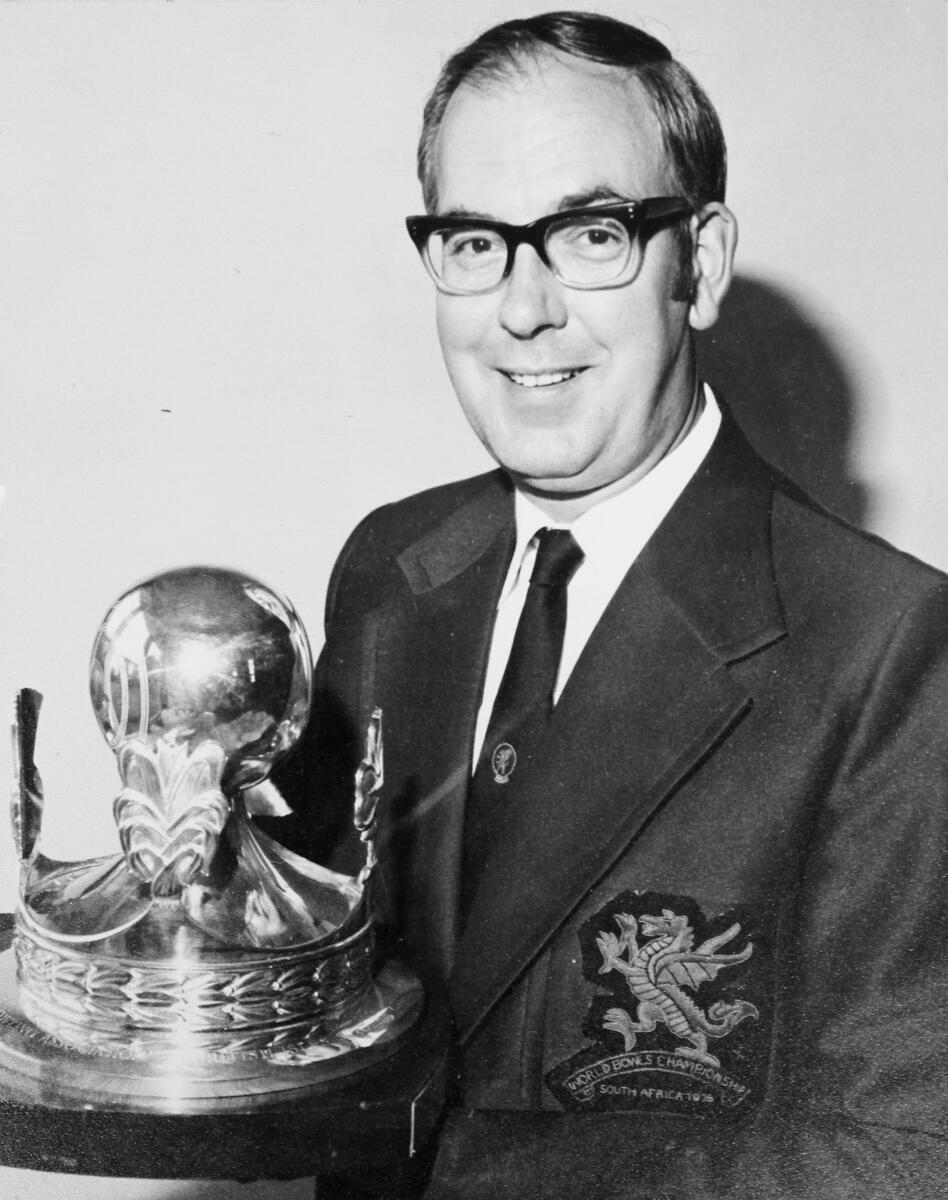 John Russell (J.R.) Evans is a name synonymous with Barry Athletic Bowls Club and the best of Welsh Bowls. A one club man, J.R. has been a member of Barry Athletic Bowls Club since 1951 and is our longest serving member.
Like so many, it was a family connection that started J.R. down the bowling path; his grandfather JT Evans was a stalwart of Barry Romilly Bowling Club, but it was at the Athletic that Russell first played competitive bowls, with his father and uncle Raymond and Selwyn Evans. During the summer holidays in 1951, he was granted a special schoolboy membership for 6 weeks, and since then he has not looked back.
His first success came quite early in his bowls career, winning the club pairs with Bert Giles. He was fortunate too to be encouraged and nurtured by club stalwarts Tom Yeoman and Bert Thomas, often allowing Russell late opportunities to step in to the second team when there was a late withdrawal.
A few years later Russell had established himself in the first team and was a member of the Carruthers winning team of 1957, leading for Maurice Edwards and remains the only member of that side still with the club. Further success followed as Russell teamed up with fellow "youngsters" at the Athletic Gareth Humphreys, Ron Thomas and Jim Morgan and within a few years, this combination were successful in recording a first British Isles Title in the Fours competition in 1963.
With success at this level, it was not long before J.R. came to the notice of the National Team selectors and Russell was rewarded with his first cap for Wales in the 1964, leading for Gareth Humphreys in Belfast.
Further international caps followed, which were underpinned by Russell's immaculate drawing game, excelling at lead for many years in the Welsh team and this consistency was eventually rewarded in 1972 when he was selected in the World Championships team in Worthing, followed by the Welsh Commonwealth Games team in Christchurch New Zealand in 1974.
The following years saw many more international caps, alongside selection for the World Championships in 1976 and 1980, and the Commonwealth Games team in 1978 and 1982. During this golden period, Russell captained the Welsh Team and also lifted the British Isles Singles Championships in 1978. His final appearance for Wales was in the 1983 International Series in Cardiff Sophia Gardens where he reluctantly took the decision to step back from international bowls and, in his words, 'give the youngsters a chance'. He also has the distinction of having represented Wales in all playing positions, a feat not achieved by many.
With a long and successful career in bowls Russell has retained a meticulous recall of matches and incidents during his bowling career and can recall with incredible detail how specific heads developed during matches over 40 years ago; however, when asked about his most memorable matches he recalls two particular matches in particular; firstly his match against the eventual Gold Medal Winner David Bryant in the Commonwealth Games in Canada in 1982, where he recorded a famous 21-19 victory to bring home a Bronze medal, and a World Championship Pairs match with Maldwyn Evans in Johannesburg in 1976, where they defeated the eventual winners Doug Watson and Bill Mosely from South Africa by three shots in front of 6500 spectators.
And his greatest achievement… in his typical modest and self-effacing style Russell acknowledges that his greatest achievement in bowls has been the respect and friendship that he developed with so many colleagues and team mates; if his team mates were happy to play with Russell, then that was always the most important victory.
After sixty six years of unbroken membership of Barry Athletic J.R. is rarely seen on the green any longer, but is a regular supporter of the club and club matches, and still has a keen passion for the development of the club. He is keen that the club maintains a progressive policy of youth development and, of course, that the club enjoys continued success on the green.
The club acknowledges and is hugely grateful for Russell's contribution to Barry Athletic Bowls Club and Welsh Bowls.
Roll of Honour
10 Club Championships
Club Captain 1966
Welsh International 1964-1983
Welsh Team Captain 1977
2 National Singles Titles
1 British Isles Singles Title
2 National Fours Titles
1 British Isles Fours Title
Commonwealth Games Team 1974 & 1978
World Championships Team 1972, 1976 & 1980
Commonwealth Games Bronze Medal 1978
World Championships Bronze Medal 1972