Gareth Humphreys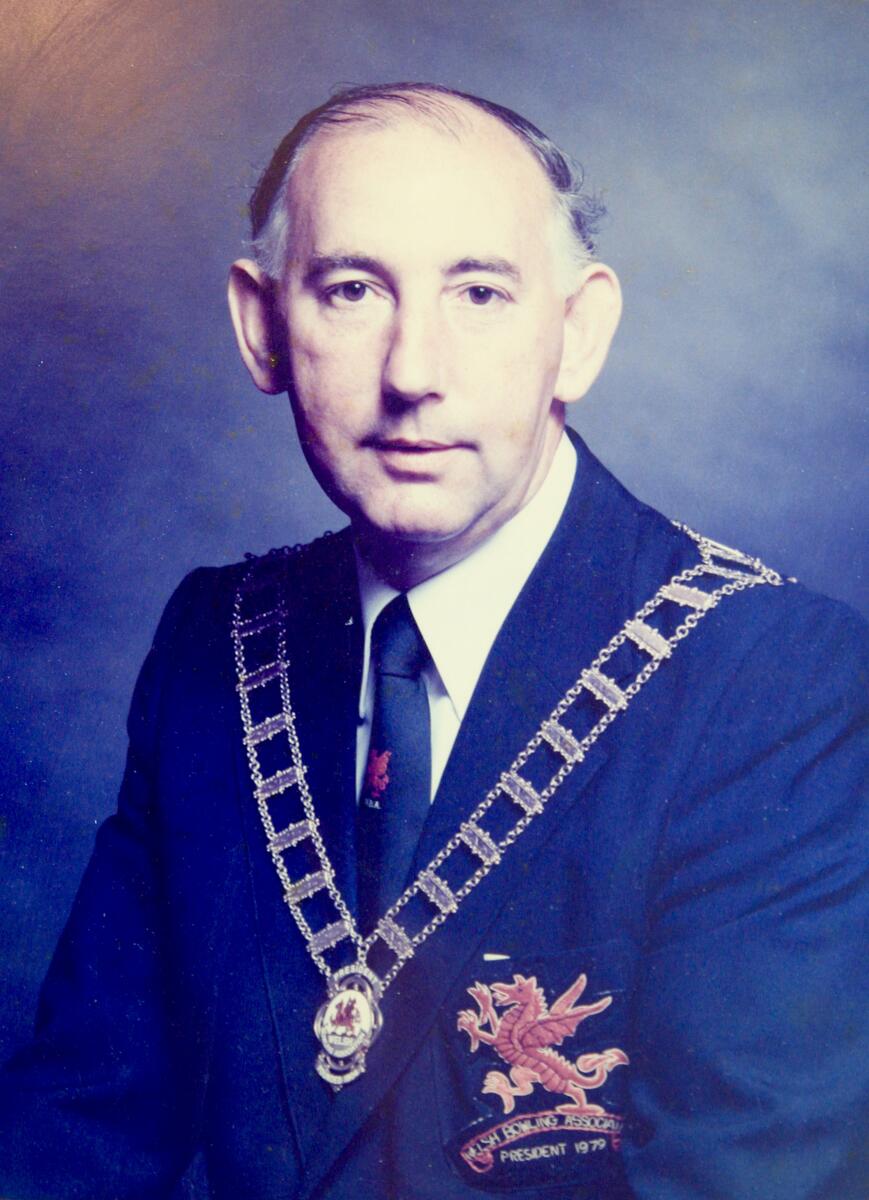 A lifetime in bowls started, as you might expect, at a very early age for the young Gareth Humphreys, playing with his father Trevor at Penrhys Park Bowling Club in the Rhondda. Gareth was just eight when he started his long and distinguished bowling career under the tutelage of his father, a career that has seen significant achievement both on the green and off the green in an administrative capacity. And, as if by fate, his first competitive game of bowls came in Barry, where he went on to forge his reputation, when he represented the Penrhys club in a fixture against Cadoxton at the tender age of eleven in 1946. At the time he was noted by the late J. Felix Williams as a 'player with potential'.
A right hander from birth, a childhood accident had impaired his ability to hold the bowl naturally in his right hand and in an early demonstration of his will to succeed, he worked hard to develop a left hand bowling ability to ensure that he could compete with the best.
Gareth continued to build his reputation playing at the Rhondda club during late forties and fifties until by chance a job opportunity as a teacher brought him to Barry. He had met many other club members on the bowling circuit over the years and it was a natural choice for him to join Barry Athletic in 1959. Having having served his bowling apprenticeship in the Rhondda and on the open competition circuit across Wales, Gareth was not required to serve a further apprenticeship in the second team, which was the normal protocol at the time, where the club selectors were able to assess his ability and aptitude for the game but was selected immediately for the first team, and by 1960, he was skipping in the first team, a position he did not relinquish for the next 20 seasons.
The club was fortunate in those days to already have a strong reputation in Welsh bowls having won the Carruthers Shield in 1957 and a number of top players were already playing at the club including J. Felix Williams who Gareth had impressed 13 years earlier. Also at the club and similarly forging their reputations were three other players who went on to achieve great things for the club and for Welsh Bowls - J.R.Evans, Ron Thomas and Jim Morgan. It was a natural choice for these players along with Gareth to combine and put together a competitive four for competition in the national WBA competitions, where their potential was rewarded early with a national title in 1963 and then the British Isles Fours in the same year.
Gareth recorded four successive club championships at this time, a feat that remains only equalled by one other player in club history, I.M. Thomas, and eventually chalking up seven club championships at a time when Barry Athletic was blessed with a plethora of excellent players.
Gareth was now established firmly in the eyes of the national selectors and he was quickly rewarded with his first international cap in 1963 where he played third in a rink skipped by Pat Hammer of the Grange club in Cardiff. However, Gareth's first international series did not start well, suffering defeats by Ireland by 26-10, and to Scotland by 33-10; the selectors meanwhile had seen enough and encouraged by Gareth's consistent drawing, switched him to lead for the final game, a move that was to be successful as the rink recorded their first victory against England by 8 shots, the only winning rink on the day.
Gareth's international career was underway and it was not too long before he was skipping in the Welsh team in 1964 with a rink that included his club colleague J.R. Evans at lead, Len Jeremiah and Danny Williams. It was an undefeated series for the new Welsh rink recording two draws and one win over the three games, and Gareth's international career was well underway. He went on the play for Wales until 1978, including representation at the World Championships in Worthing in 1972 and the Commonwealth Games in Christchurch New Zealand in 1974, where he once again played with his club partner J.R Evans. He was also privileged to be selected as Welsh captain in 1969.
As well as demonstrating his skill on the green, it was during this time that Gareth was also forging a reputation in administrative roles, firstly in the club where he served as secretary from 1966-78, then at county level for Glamorgan and also for the Welsh Bowling Association. Working with other stalwarts of the game Gareth was one of the architects of the current county structure that we see today overseeing the break up of the all-powerful Glamorgan county in 1974. He also developed a keen interest in coaching and the development of potential in players, a characteristic that he retains to this day. His unique understanding of the pressures and stresses faced by players on the international stage allowed him to positively influence elite player development
His role in the administrative side of the game continued hand in hand with his playing career, enjoying equal measures of success, and when a serious illness prematurely ended his international playing career, his focus turned to what he could offer Welsh Bowls 'from the bank". He served a term as Welsh President in 1979 and went on to serve as President of the British Isles Bowls Council in 1987, whilst also retaining a firm foot on the bowling side, serving as a Welsh Selector from 1981-2007, and two terms as national team manager 1989-1992 & 1997-2000.
His services to Welsh Bowls did not end there; Gareth was the founding Chairman of Welsh Coaching Association and was also instrumental in establishing the Welsh Umpires Association. He has also served as a WBA council member for many decades.
It was fitting that such an outstanding contribution to Welsh sport was recognised outside the game of bowls and this resulted in Sports Council of Wales Gold Medal in 1983 for Services to Welsh Sport, the Welsh Commonwealth Games Council scroll of Honour for sport in Wales and also, most notable of all, an MBE in 2009 for voluntary services to to the sport of lawn bowls as both a player and an administrator over almost 50 years - a lifetime of bowls. He is understandably very proud also of Rhondda Recognition Award which he picked up in 1966
For players with such a distinguished history in the game it would be understandable if some of the detail of games, opponents and results faded with memory; not so with Gareth - his pin-sharp recollection of matches heads and even shots is faultless to this day. Asked about the greatest match he played in, his memory of the 1967 indoor international match in Crystal Palace where his Barry four of J.R. Evans, Ron Thomas and Jim Morgan overcame a fancied Irish four to win the British isles Championship, the first time the same four players had won both the indoor (1967) and outdoor (1963) British Isles Championship ranks high on the list.
His 'best' Welsh team was the 1992 edition which included such players as Spencer Wilshire, Will Thomas, Trevor Mounty, John Price, Robert Weale and the irrepressible Dai Wilkins, when Wales lifted the British isles Championship in Larne, Northern Ireland.
His toughest opponent - without doubt the legendary David Bryant, against whom he crossed swords many times in British, Commonwealth and World Championships. His highest rated Welsh player is Robert Weale, whose record in Welsh bowls is unsurpassed; and one of his proudest moments was as Welsh team manger in the World Bowls Championships in South Africa in 2000 when he oversaw the Gold Medal performance by the Welsh four in winning the World Championship.
Looking to future, Gareth still regularly turns out for his beloved Barry Athletic and retains the pleasure of good company on the green and encouraging the younger players at the club. Interestingly, and following his illness in 1979, he is still demonstrating the same dogged determination that featured in his early bowling career by switching his delivery to right handed, full circle to the start of his bowling career back in the Penrhys Park days!
And asked about his hopes and wishes for the future, he shows his loyalty and affection for his club by hoping that Barry Athletic can again one day achieve its full potential in Welsh Bowls; with members of Gareth's ability and dedication, it would be a certainty.
An unsurpassed lifetime in bowls, which has seen the highest achievement, respect and admiration across Wales, the British Isles and the world, Gareth has been a role model in our game for over seven decades and has set the bar high in club, county and international bowls. He retains the passion for the sport to this day and continues to serve his club and his country with distinction, a true legend in our game.
Roll of Honour
7 Club Championships
Club Captain 1967
Welsh International 1963-1978
Welsh Team Captain 1969
3 National Fours Titles
1 British Isles Fours Title
World Championships Team 1972
Commonwealth Games 1974
Welsh Team Manager 1989 -1992 & 1997-2000
Welsh Team Selector 1981 - 2007
Welsh President 1979
British Isles Bowls Council President 1987
Rhondda Recognition Award 1966
Sports Council of Wales Gold Medal in 1983 for services to Welsh Sport
MBE in 2009 for voluntary services to the sport of lawn bowls.