Jim Morgan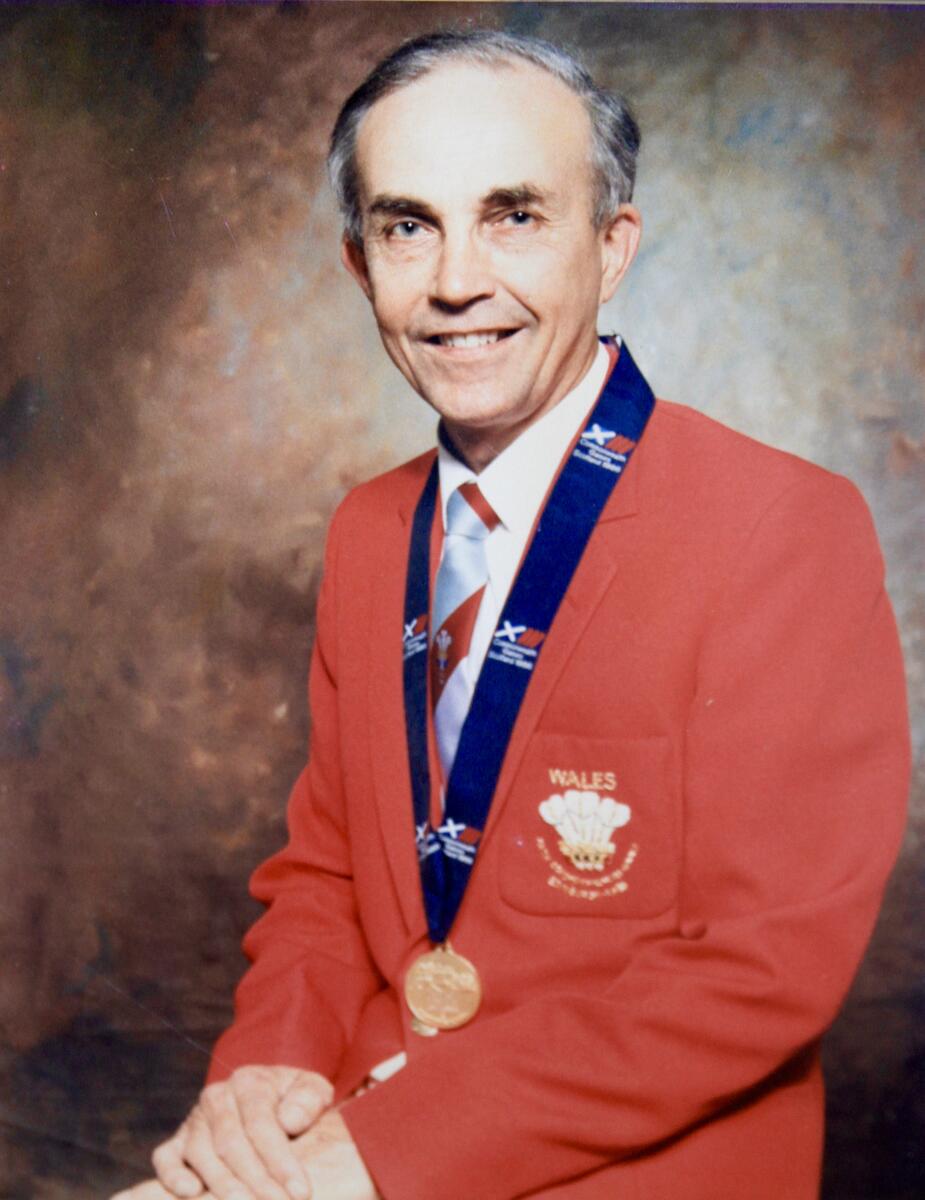 Jim came to bowls in 1954 when, encouraged by his father, he joined Barry Central; however, looking to develop his bowls, it was not long before he was encouraged by friends playing short mat at the local YMCA to join up with Barry Athletic and he played his first season with the club in 1961. Having previously established his bowling credentials in the preceding years, it wasn't long before he was an established first team player, a position that he would not relinquish for the next 40 years. His first skip in those days was Ron Thomas, and Jim was chosen as second in a rink that also included J.R. Evans and Bill Jones.
Despite also playing cricket in those early days, Jim's natural ability to bowl was clear to everyone, and he quickly developed his bowling skills in those early days playing at the club with more established and experienced players. The club was blessed with many good players in those days and four of the club's younger players, Jim, J.R. Evans, Ron Thomas and Gareth Humphreys agreed to play together as a rink for national competitions. Success was almost instantaneous when a win at the National Championships was quickly followed by a British Championship in 1963, putting the four players firmly on the Welsh bowls map.
A further British Isles Fours indoor title in 1967 and another Welsh title in the fours in 1969 paved the way for selection to the national team, and Jim was rewarded with his first cap in 1972.
As well as competing for Wales and club and county, Jim was a regular competitor at the many bowling tournaments in the UK during the sixties and seventies with the Bournemouth tournament being one of the best. One of Jim's proudest bowling moments was winning the singles championship in 1977 in a field of over 700 competitors which included over 50 recognised international players.
After representing Wales with distinction for many years it was not too long before Jim was firmly in the eyes of selectors for World and Commonwealth events, and in 1978 he was paired up with Ray Williams for the Commonwealth Games in Edmonton, Canada where the pair were successful in bringing back a bronze medal.
Following his success at Edmonton, Jim was selected once again for the Commonwealth Games in 1982 in Brisbane Australia, this time in the fours but accompanied by his former pairs partner Ray Williams and joined in the combination by Cliff Williams and Alun Thomas. However, they were not destined to medal this time, finishing fourth in a 14-team round robin behind Australia, New Zealand and Ireland.
Jim was able to put that disappointment of Brisbane firmly behind him with selection at the 1986 Commonwealth games in Edinburgh, where he was once again selected to skip the fours combination, but this time consisting of a young Robert Weale, already making his way on the international stage , William Thomas and Hafod Thomas. In a similar round robin tournament, Jim's rink swept to success winning eight of their 11 games, losing just two and drawing one match, just ahead of Canada and Ireland in the silver and bronze medal positions respectively. Gold for Jim Morgan, Wales and Barry Athletic remains one of the highest achievements in our long and distinguished history as a club.
Jim was not finished on the international stage quite yet as he continued to skip for the Welsh side and was also selected to represent his country at the 1988 World Championships in Auckland, New Zealand. Jim competed in two disciplines in that event, skipping both the triples with a young David Vowles, and Alun Thomas and joined in the fours by William Thomas with whom he had tasted gold medal success in Edinburgh two years earlier. Success proved a little more difficult to come by in this event however with the triples finishing in seventh position, and the fours losing out in the bronze medal match to England by 21-18, helping Wales to eventually finish fifth overall in the Leonard Trophy.
That year, 1988, was to be Jim's last appearance on the international stage having represented his country for 16 years, and going out at the very top of the game after representing Wales with distinction all over the world.
In his international career Jim came up against some of the finest bowlers of that period. But one man stands out in Jim's mind as the best bowler of his time -the Scottish legend Willie Wood. Jim played with and against Willie on many occasions and he was impressed with his all-round bowling skills as well as his single-minded ability to win matches when it really mattered.
Winning the BIBC international series in Ayr in 1982, when he was captain, was a proud moment for Jim but there is another international match that stands out in his memory; in the BIBC international championship in Glasgow in 1978, Wales had all but given up hope of winning the series, needing a fifty plus shot win against Ireland on the day and hoping that the result in the England vs Scotland match went their way. Jim's rink that day consisted of Trevor Mounty at lead, Mal Evans and Ray Williams and his rink of all-stars lead the way for Wales recording a 37-10 victory and providing over half the shots that Wales needed to lift the championship. As fate would have it, results did indeed go their way that day in Glasgow and Wales were champions in no small part down to Jim and his rink's performance in that final match.
But there was no time for celebration after the match against Ireland as Barry Athletic were playing Llanbradach the following day in an important Carruthers Shield match and Jim and his Barry colleagues also in the Welsh team, J.R Evans & Gareth Humphreys, travelled back on the sleeper train that evening from Scotland so that they were ready to turn out for the club the following day.
With so many top players at the club in the 60's, 70's and 80's, winning the prized Club Championship came at a premium and Jim was able to record successes on three occasions, the first in 1969, the second ten years later in 1979 and the final one in 1998 when at the age of 65 he lifted the Club Championship for the final time. When asked about the reason why his club success did not mirror his international and tournament success Jim is certain about the answer – a certain J.R Evans who kept on beating him in the final. And one match stands out in Jim's memory when Russell was leading 3-0 after the early exchanges; winning the end, Jim lengthened the jack and scored 19 unanswered shots to put him on the brink of victory. JR who never knew when he was beaten, then scored 18 unanswered shots on a shorter jack length to lift the title and the crowd at finals day witnessed two stars of the game at the peak of their abilities.
Jim and his family are now woven in to the history of our club; having graced the green at Barry for over 50 years, his wife Noella also played a significant part in the club. And Jim was immensely proud to see his two sons Gareth and Richard commence their bowling careers at the Barry Athletic Club, with Richard going on to achieve international honours like his father both on the indoor and outdoor circuit.
Jim was also able to give back to the game in no small measure; he served the club as chairman in the eighties and was a Director of Barry Athletic Club Limited, our umbrella club, where he was awarded life membership in recognition of his contribution. He served in a prominent role in the Welsh Umpires Association for over a decade and also spent some time as a coaching coordinator in the Vale helping develop players.
Whilst no longer playing, Jim still lives near the green at Barry and will always be remembered at the club as an exceptional player and generous member of Barry Athletic Bowling Club; he played the game to the highest of standards both on and off the green, and to his day maintains the high principles and standards that he demonstrated throughout his playing career.
As one of his former international colleagues Trevor Mounty might say – 'thanks for everything Jim baby !!'
Roll Of Honour
Welsh International 1972- 1988
Welsh Team Captain 1982
Commonwealth Games 1978, 1982 & 1986
Commonwealth Games Gold Medallist 1986 (Fours)
Commonwealth Games Bronze Medallist 1978 (Pairs)
World Championships 1988
Welsh National Fours Winners 1963 & 1969
British Isles Fours Winners 1963
Club Champion 1969, 1979 & 1998
Club Captain 1973
Club Chairman 1983 - 1986
Barry Athletic Club - Life Member